About the Experience
The Maker Music Festival takes place on a virtual campus. Projects are attached to the units in the buildings. Basically, when a visitor hovers over a window in the building a pop-up tells them the name of the project. A short sound clip of the piece also played. When the window is clicked, the information that you have submitted is displayed in a pop-up for the visitor to peruse.
You can have more than one project associated with your account. So later on, if you'd like to add another project — no problem.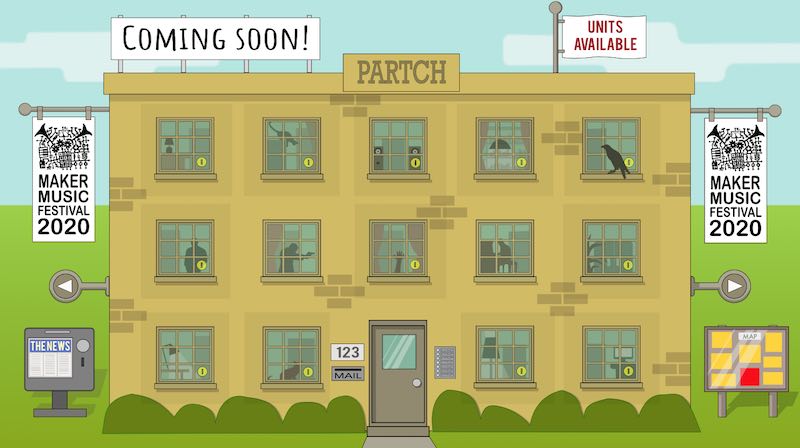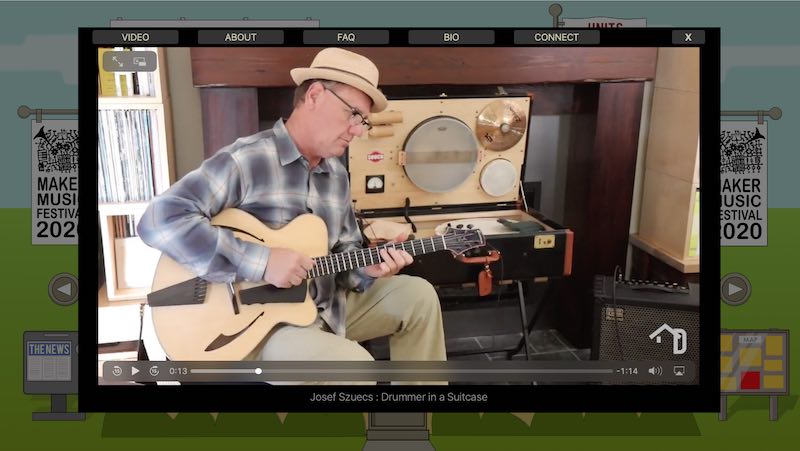 Initial Submission
The first thing you'll do is create an account. Once that's done you'll enter information about yourself and your project. If you're submission looks good, we'll let you know and you can complete your project profile. So make sure your email is correct!
Completing Your Profile
Now we'll need a few more things from you. Most important is your project video. We realize that your video may exist on other platforms and we could just link to it — and we let you do this. But we also see the site as an archive of music makers and their projects. To this end, we need to keep a version on our servers. The video should be fairly short, about 1 to 2 minutes. Think of is as a compelling movie trailer. It should just show your project/piece in action. Save the description for text. Of course, a nice still image of your work is needed as well. More information about formats can be found below.
You can also submit a link to your YouTube/Vimeo video as well. There is also a place in the social media links for your YouTube channel.
Connections
We want to make sure that visitors can connect with you. To this end, your social media accounts are presented in your profile. Also, if you have a donation account, e.g. Patreon or Buy Me A Coffee, enter that as well. If you don't, you may want to create one. We want help you grow your audience and maybe even get you a little cash along the way.
Video Specifications
Your video should have an aspect ratio of 16:9 and resolution of 540p. Format is MP4 (H264 video codec, AAC audio codec). If you have an existing video and it's difficult for you to convert to this format, just upload what you have. Please no multi-gigabyte files.
Ideally, you'll upload your video via the form on this site. We can also download your video from other sources, just provide us with the details via email (info@makermusicfestival.com) or in the comment section of your submission. We may adjust your video for length or format.
Picture Specifications
The project image should be 1280 pixels by 720 pixels. JPEG, PNG, or BMP are acceptable formats. Your personal photo should be 300 pixels by 300 pixels.
FAQ
The FAQ is a list of questions that visitors typically ask about a project. This comes from years of exhibiting at Maker Faires. It also helps to add a bit of consistency to the various project descriptions.
Story
Once again, when exhibiting at Maker Faire, you find yourself telling stories about what you do. Perhaps some serendipitous discovery, surprising encounter or humorous situation. This is a positive aspect of a live experience, and we'd like to capture that here. It can be about anything really. So have fun with it.
Final Notes
Once all of your information is uploaded, we'll make any necessary adjustments. You'll be notified to preview the project before it goes live. Once the project is published, you won't be able to edit it directly. If you need to make changes, simply contact us, info@makermusicfestival.com, to request an adjustment.
There is more to the Maker Music Festival than just a collection of projects, but it is the core experience. Live performances, interviews, collaborations and interactive features are all in the works.