Thump Crash Tin
A sound object installation made with recycled materials.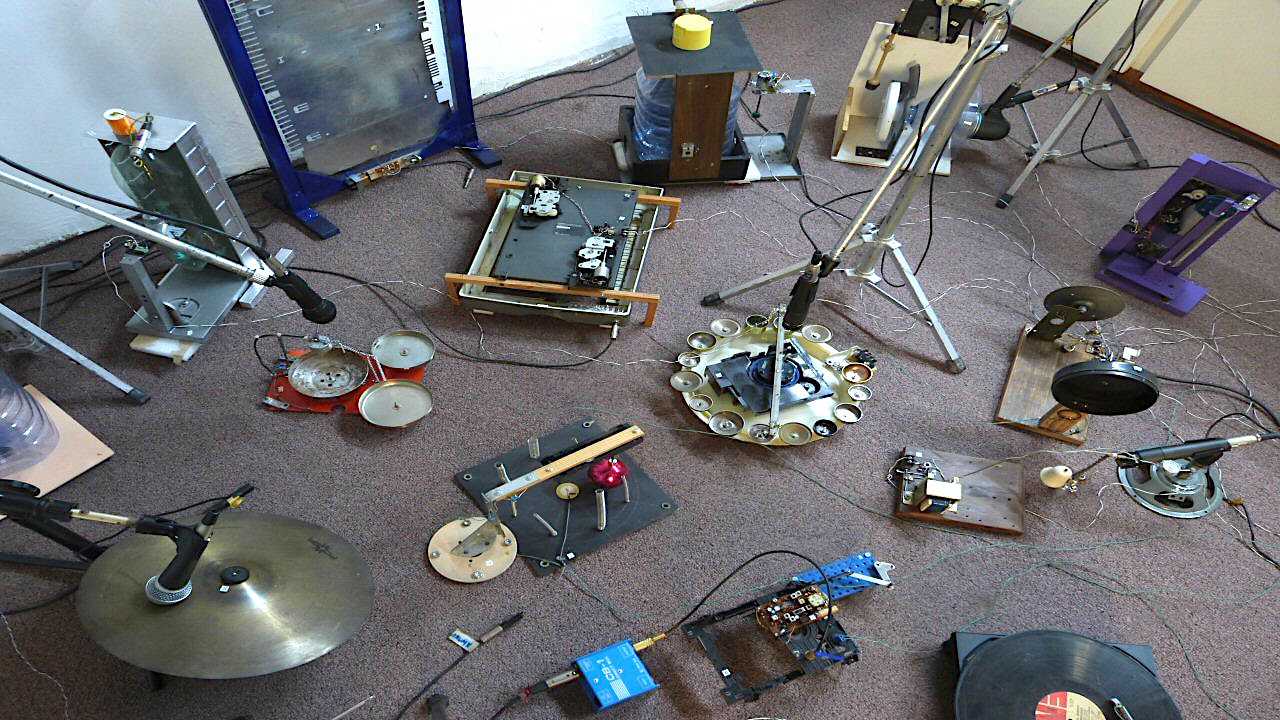 The installation consists of a series of elements (sound objects) that have been created and built with recovered parts and materials, recycled from various electronic and electromechanical devices, most of which have been electrical appliances and related Audio and Video that have fallen into disuse and therefore discarded by people, forming part of what has been called "programmed obsolescence" ...
These sound objects are commanded by a controller (also built with recycled materials) which has 16 outputs, one for each sound object; Each of these outputs has a cycler circuit, which alternately turns the assigned object on and off according to an adjustable cadence. Each of the outputs works independently of the others, thus generating a random sequence that never repeats ...
Finally, the sound of each object is taken individually and with microphones, and the signals are sent to a mixer for amplifying / recording. Listening with headphones or audio equipment is recommended.
Frequently Asked Questions
What inspired you to do this?
It has been
How long did it take to make it?
During the pandemic.....
How long have you been doing things like this?
Since late 70s...
How much did this cost to do?
Not much, I work with recycled materials for the most part.
Have you done other things like this?
Yeah, including light and kinetic installations; Have a look at my YouTube channel.
What did you wish you knew before you started this?
I wish to make something that can surprise me and make me enjoy it...
Are there plans available to make this? Do you sell this?
I am open for ....
What's next?
I plan to expand this from 16 sound objects to 24.
Resoures?
I constantly absorb anything that can be used: material, spiritual, intellectual.
Alex Fernandez : Maker-Creator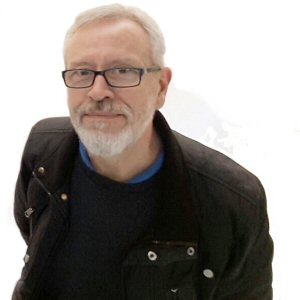 Alex Fernàndez was born in Avellaneda, Buenos Aires in 1954.

He is an Electronic Technician specialized in Instrumentation and Control Systems for intelligent buildings.

Since 1977 he has experimented with the generation and processing of Sounds, and their application both in Music and integrating other artistic manifestations such as Theater and Plastic, and in the creation of Circuit Bending works.

From 1989 he began to dabble in Photography and Video Art.

Since the beginning of the 90's he joins different groups of Plastic and Theater, in which he participates from the creative stages to the technical concretion.

Since 2005 he begins his collaboration with the artist Mireya Baglietto, with whom he has since made several works together.

Since 2008 he is part of the Magma group.

Since 2012 he has been a member of the Bisiesto collective.

Since 2017 he is part of the Nuna Ikigai group.

He has participated as a plastic artist, photographer, videographer, Sound designer in individual and group exhibitions and plays, and installations.
Connect with Alex Fernandez
How I can help you:
With technical assistance.