Sound Cave Project
The Sound Cave Project immerses participants in the phenomena of thousands of musical strings sympathetically resonating every sound they make while inside. The wonder & joy induced by this experience invites participants to play with their own sounds by singing, laughing, crying, or howling.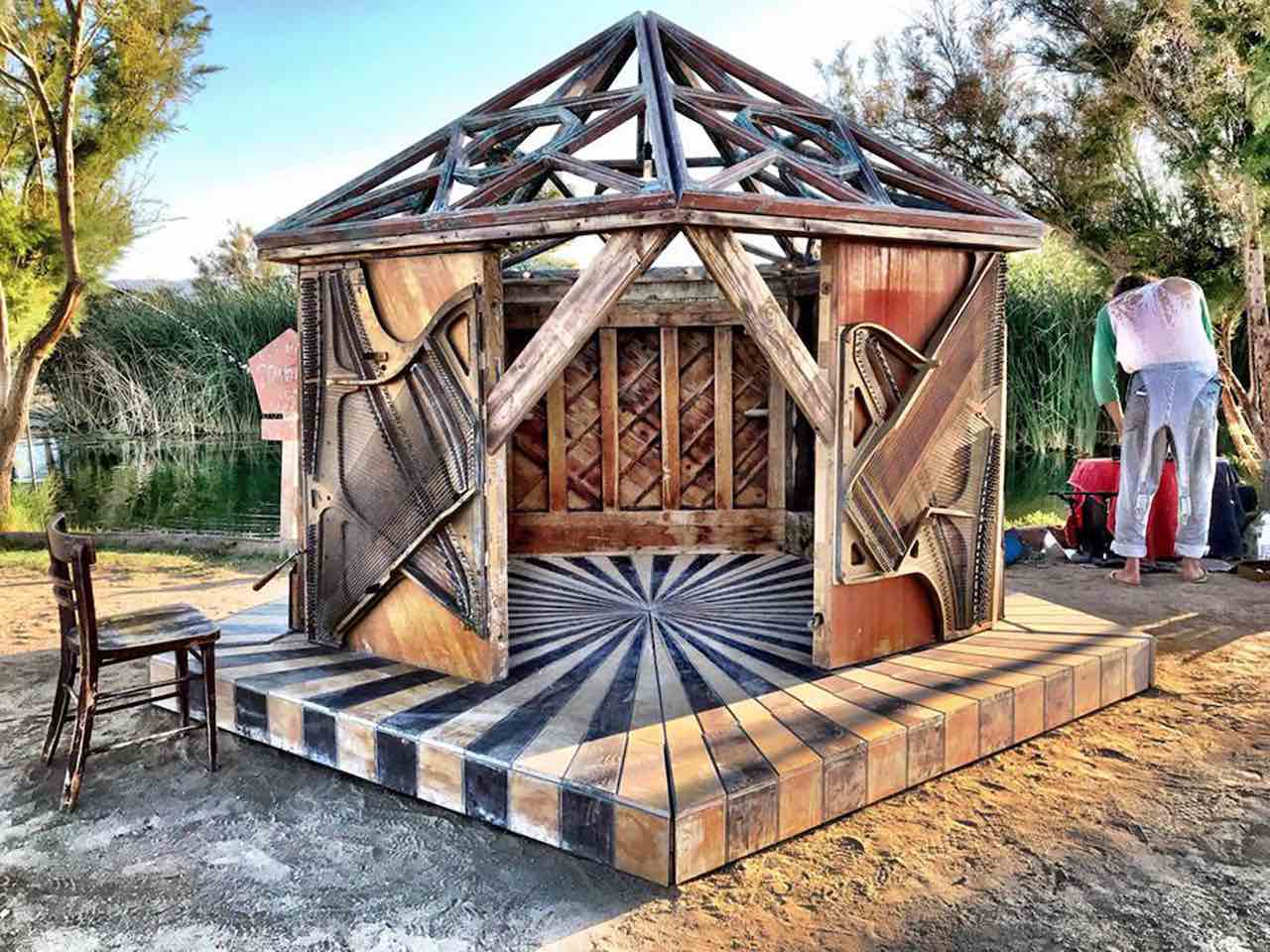 The Sound Cave Project is a series of musical art installations that began in 2007. Innovative musical elements integrated within them often include tunings based on the Schumann Resonance (Earth's fundamental tone), just-intonation, natural overtone series, fibonacci series, astronomical periods of time, ancient Greek/medieval modes, a 33-note per octave scale, piano mics, sub-floor speakers, binaural beats, sympathetic resonance and a foot percussion dance floor that resonates thousands of strings. These art installations are often accompanied by performances, long form workshops and super quick TED-style talks/performances highlighting innovative aural elements involved in these projects. The experiences created by them are often both profound and awe-inspiring.
The largest Sound Cave Project to date was titled "Shrine of Sympathetic Resonance." A 37' tall, 50' across musical sculpture with over 10,000 strings for people to go inside, play and have every action sympathetically resonated and echoed back by the strings. More info and images at
www.soundcave.org
.
Photograph by Paul Moeller
Video by Rob Schoenborn
Side story
In 2007 I was creating an orchestra of musical instruments built out of junk and natural materials such as sea kelp, as a part of a large scale art installation called The Living Pulse Project. Since we had almost no money for the project I turned towards using salvaged, gleaned and upcycled materials such as broken pianos for the parts of my musical instruments.
While doing so I started noticing that any time a sound was made in my studio, whether it be an object falling on the ground or someone's laughter, the exposed piano harps would echo these sounds back into room. I also noticed that no one else was noticing this happen. Being fascinated by this aural phenomenon and wanting to share it with others I was inspired to create a space that would frame and focalizing this effect.
After breaking down the Living Pulse Project I lifted my bed up and shoved four pianos underneath it to create a little room with 1000 strings surrounding it. And with that the first Sound Cave Project was born!
Ever since I've continued evolving this project with new forms, tunings and techniques while deepening my understanding of and ability to play with the natural phenomenon called sympathetic resonance.
Among many highlights, the summer 2019 was a special one when I gathered an amazing crew and created the largest one Sound Cave Project to date. The Shrine of Sympathetic Resonance was 37' tall, 50' wide musical sculpture with over 10,000 strings for people to go inside, play and have their every action resonated back.
We look forward to creating more!
Frequently Asked Questions
What inspired you to do this?
Sympathetic Resonance is a phenomenon of our natural world that occurs when sound vibrations interact with objects tuned to them so strongly that these objects continue echoing this tone into the room even after the original sound stops. If this phenomenon happens within our audible hearing, does it also happen in frequencies beyond our hearing? What about in our actions? Our words? Our thoughts? And if every action we take continues to resonate in the world beyond our immediate effect, what ways do we choose to participate in the world around us?
How long did it take to make it?
The Sound Cave Project pictured here took 2 weeks to create.
How long have you been doing things like this?
Since 2007.
Have you done other things like this?
Yes. Many. Check out www.soundcave.org, www.tysonayers.com or email tysoon@soundcave.org for a pdf of my art portfolio.
What did you wish you knew before you started this?
Overall it was wonderful discovering things along the way.
Are there plans available to make this? Do you sell this?
I am happy to create custom commissions of this design or or many others. I am also happy to consult on other musical sculpture projects. If interested reach out to tyson@soundcave.org
What's next?
There were many new projects in the works that were postponed/cancelled due to Covid-19. We look forward to proceeding again when viable and/or are open to new commissions and projects.
Resoures?
5 Elements Teahouse - Sound Cave Project
2017-Present
wood, metal, 5 salvaged piano harps, 1100+ musical strings
12' W x 11' D x 9' H
Photo by Paul Moeller
Video by Rob Schoenborn / BUYUSED visuals
tyson ayers : Instrument Inventor / Music Composer / Performer / Large-Scale Installation Artist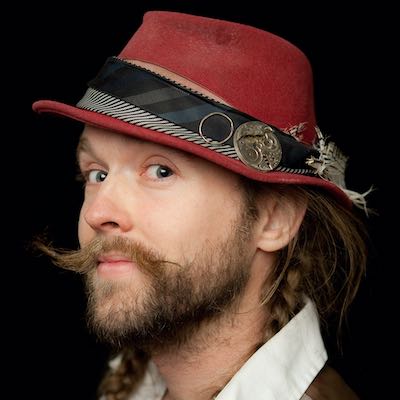 tyson ayers is an experimental sound artist, immersive theatre producer, and large scale installation artist based in Chimacum, WA. Their work explores human perception of aural phenomena, non-traditional storytelling, Jungian archetypes and art generated altered states. They are passionate about using innovative art in immersive environments to shift people's perspectives and experience of their senses, and for using these moments to incite new relationships with themselves, others and the world around us. Their large-scale sound sculptures include architectural spaces surrounding people in thousands of strings sympathetic resonating and echoing back every sound made inside, bike paths functioning as huge musical records playing melodic vibrations as people ride over them and giant musical harps played by the wind. Press includes NPR-Affiliates KALX, Forbes, Echo Magazine and San Francisco Chronicle. They have shown and/or performed at the DeYoung Museum, Burning Man, Maker Faire, Rainbow Serpent Festival (Australia), Lightning in a Bottle and has received recognition from San Francisco Arts Commission OPG and IAC awards, Zellerbach Family Foundation, SF Weekly Masterminds, and Rainbow Arts & Culture Grant (Victoria, Australia).
Photograph by Alexander Warnow
Connect with tyson ayers
How I can help you:
I'm available for customized art commissions and/or rentals of my Sound Harps, Sound Cave Projects or Shrines of Sympathetic Resonance.
I also offer:
- creative coaching sessions
- production of large scale musical art installations, immersive zones & stage design/fabrications
- music lessons in music composition, sound healing techniques, guitar, piano, harmonica, banjo, bass, ukulele, mandolin, fiddle/violin, cello, accordion, theory/improv and more
To connect further email
tyson@soundcave.org