Laikabot laikamaker
Research on the manufacture of musical instruments for the band's own use, mixing traditional luthieria techniques with digital fabrication. We've using a combination of traditional and prototypes instruments in live presentations and recordings, searching for different sounds and interfaces to compound Laikabot's sound and visual identity.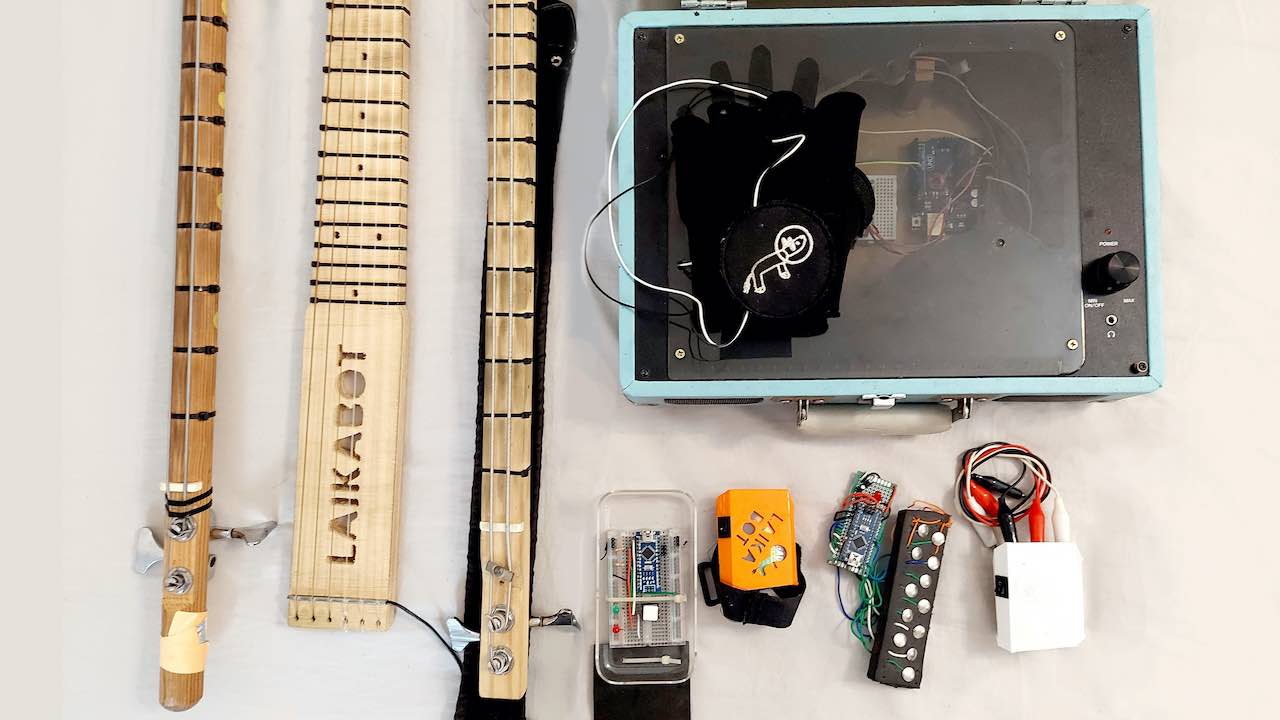 In the video we use 3 instruments:
1. Theremino (LDR - light dependent resistor Arduino Theremin), built in a turntable case.
2. Baixoura (2 strings bass broomstick, hellermann frets and piezo pickup)
3. Tauba Guitar (CNC routed plywood, nylon strings, 3d printed nut, hellerman frets and saddle piezo pickup).
We studied traditional luthierie before Laikabot started (2016), building electric and acoustic guitars and acoutica drums customization. Our research on digital fabrication started in 2017, doing experiments with 3d printing and laser cutting. In 2018 we started learnig Arduino and made some prototypes to use in a live presentation on Arduinday São Paulo (wereable versions: LDR ring theremin, bracelet-stynth and scarf-drums).
Side story
After a Laikabot rehearsal, in 2018, we were discussing how we would like to learn Arduino, to know if it's possible to use live in musical presentations. We'd already seen some prototypes, like drumkits and keyboards, but just as a demo.
Next day a friend of ours, involved in the São Paulo's Maker scene, wrote asking if we used Arduino. He was looking for projects to the upcoming ArduinoDay and said there's no much people using it for music.
So we had about 1 month to present some project. He taught us the first steps and we asked an engineer friend to help. We worked till late some weeks and made many prototypes, some of then discarded, and managed to have 4 different Arduino devices to present live!
Here's some excerpts of the ArduinoDay presentation: https://youtu.be/UTLy55Fz6Cg
Frequently Asked Questions
What inspired you to do this?
Lots of works. In the traditional luthierie, we're inspired by the Brian May's Red Special, plus other stories of home built guitars. In digital fabrication, we're inspired mainly by the FABLABs and some friends who worked on them.
How long did it take to make it?
Each instrument takes just a few days to be built, like 1 to 3 days.
How long have you been doing things like this?
Since 2007, when we built our first electric guitar. But this research on mixing multiple technics for musical instruments started in 2018.
How much did this cost to do?
Depends on each instrument.
The Arduino-based instruments are cheaper, it's only the cost of a basic kit (15-20 USD). But we use some 3d printed accessories.
String instruments are more expensive. The pegs costs at least 30 USD, up to 100 USD. The piezo pickup costs 5 USD. Plus the strings and other pieces. It'll cost at least 50 USD.
Have you done other things like this?
Yes, we did some other instruments, check our Instagram and Tumblr to see more!
https://www.instagram.com/laikabot/
https://laikabot.tumblr.com/
What did you wish you knew before you started this?
How to code, we still need some help to program something more complex on Arduino.
Are there plans available to make this? Do you sell this?
We're not planning on selling, but we make workshops to teach how to replicate some of the instruments.
What's next?
We're still continuing this research. We plan on build a new guitar and bass guitar. We plan on advance in a better electronic drumset. We want to improve the Theremino interface. We want to make a Arduino-based synth more reliable to use live. Using more these instruments on Laikabot's songs.
Resoures?
Arduino official site https://www.arduino.cc/
Mozzi library (synth) https://sensorium.github.io/Mozzi/
Ardutouch library (synth) https://github.com/maltman23/ArduTouch
Guiarbuild (luthiery) https://www.guitarbuild.co.uk/
Red Special (luthiery) http://redspecial-library.com/plans
Martin Koch - Building Electric Guitars: How to Make Solid-Body, Hollow-Body and Semi-Acoustic Electric Guitars and Bass Guitars (book)
Laikabot : Music group and makers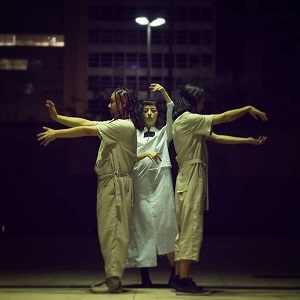 Laikabot is a musical group and a collective that develops musical instruments for their own use. The group was created in 2015, using a hacked guitar to produce two audio channels (bass and guitar), a mix of acoustic and electronic drums and some gadgets like piezo gloves to trigger samples.
In 2018 started the experimentations with Arduino and other electronical devices, digital fabrication (CNC router, 3d printing and laser cutting), alongside with the traditional lutherie. It started a partnernship with people in the São Paulo maker community.
Since them, Laikabot performed in events like Arduino Day, Maker Week, Fab Lab SP, Campus Party, Roadsec SP, Red Bull Basement, Sons de Silício USP, GIF Festival IED and Reinstantes() EBAC, with musical presentations and workshops.
In 2019 Laikabot released two singles in the digital platforms.
Connect with Laikabot
How I can help you:
We can share experiences and knowledge about the technics involved - traditional luthierie, digital fabrication, interface design.
How you can help me:
Sharing experiences and knowledge. We still have a lot to learn about digital fabrication and Arduino.
If you like this project, please make a small donation to the artist.