flairdrum
By applying air pressure, a PET bottle can create an astonishingly clear and brilliant sound. The ingenious thing about it: the bottle is a sound generator and sound box in one. The higher the pressure, the higher the surface tension of the bottle and thus the higher the tone. Thus, a unique instrument, that invites you to pause and be amazed is born: the flairdrum.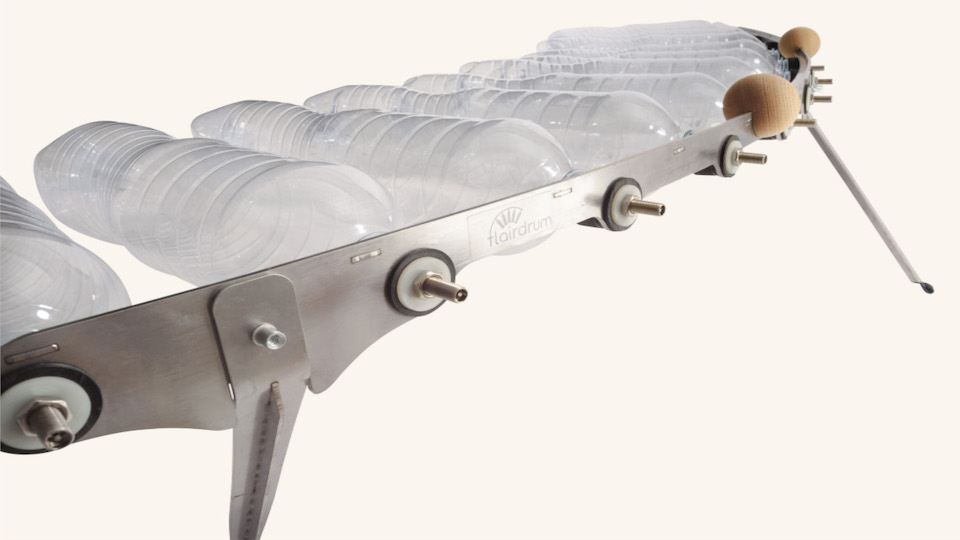 How does it work? In the bottle cap, a car valve is screwed airtight. With a simple bicycle pump, the bottle can now be inflated with the desired pressure and adjusted easily, which makes it precisely tunable. The frame holds 12 bottles in a row and is made out of lasered 3mm stainless steel, which makes it robust and suitable for all weather conditions. The frame can be dismantled into 3 parts and easily be stored in a backpack.
It took 5 years of development, experimenting with different bottles (only a few brands are suitable), creating special flairdrum mallets and optimizing the frame together with a practical stand, making it a professional and unique instrument
Curator note
Daniel was the very first maker to submit a completed project to the Maker Music Festival!
Side story
Somehow I think the bottle bewitched me. Ever single day I'm engaged with it, to improve the instrument, to build it, to assist others building it, to play with it, to connect to others.
In return, I feel richly gifted with a lot of nice moments. I remember one day when a guy came to my house with a small car full to the top with more than 400 coke-bottles, which he and his friends drank and which I am still using to do my workshops. To find the bottle with the best sound I spend hours walking in the supermarket to hit all of them and try to look as if it were the most normal thing in the world. I know all bicycle shops in my neighbourhood to ask them for their broken bicycle tubes in order to cut off the valves. I know all employees of the biggest beverage handler in town, where I spend hours to unscrew the lids of bottles. Last year, I contacted various development agencies and NGOs in order to organize 200 Coke bottles in Ghana and Burkina Faso, to make workshops with school children.
In return, I look into so many amazed faces when I play my instrument on concerts or on the street. And I try to give children and for all young at heart some carefree moments when they build their own flairdrum.
I'm sure the story does not end here and I'm curious what comes next.
Frequently Asked Questions
What inspired you to do this?
I saw a street artist in Lithuania and immediately fell in love with the sound of this instrument.
How long did it take to make it?
I started my project in 2015 and I am still very passionate about it.
How long have you been doing things like this?
Basically, I've been doing music and handcraft since my childhood.
How much did this cost to do?
Quite manageable as it's mainly recycled materials.
Have you done other things like this?
Well I'm always keen on havng other DIY instruments in my repertoire. Right now I am experimenting with a drum also made out of PET-bottles.
Are there plans available to make this? Do you sell this?
I'm selling the instrument on my website. For those who would like to construct it themselves, I also offer a kit with all the necessary materials.
What's next?
Right now I'm looking for more partners, who see the potential of this unique instrument and are interested to merchandise it.
Furthermore, I also offer workshops where I bring all the materials and you are the one who builds the flairdrum.
Last but not least, I'm ready to give a concert with my own songs on this unique instrument.
Resoures?
When I dont know how to do the next step, I always ask people around. Its like magic, but so far there was always the right person at the right time. I'm very thankful for that. Without all of you this project wouldn't have been possible.
Daniel : flairdrum

Hi there. I'm Daniel, an instrument builder, musician and music pedagogue living in Hamburg, Germany. Making music is the central way for me to express my creativity, intuition and dedication.

I love simplicity and the careful handling of nature's gifts, as well as looking behind the surface, for new connection and meaning.

My flairdrum project, a central part of my life since 2015, manages to hit several bridges here.
Connect with Daniel
If you like this project, please make a small donation to the artist.