Drum Bugs
Percussion Boards in the style of Tom Nunn's Bug EPBs (Electroacoustic Percussion Boards).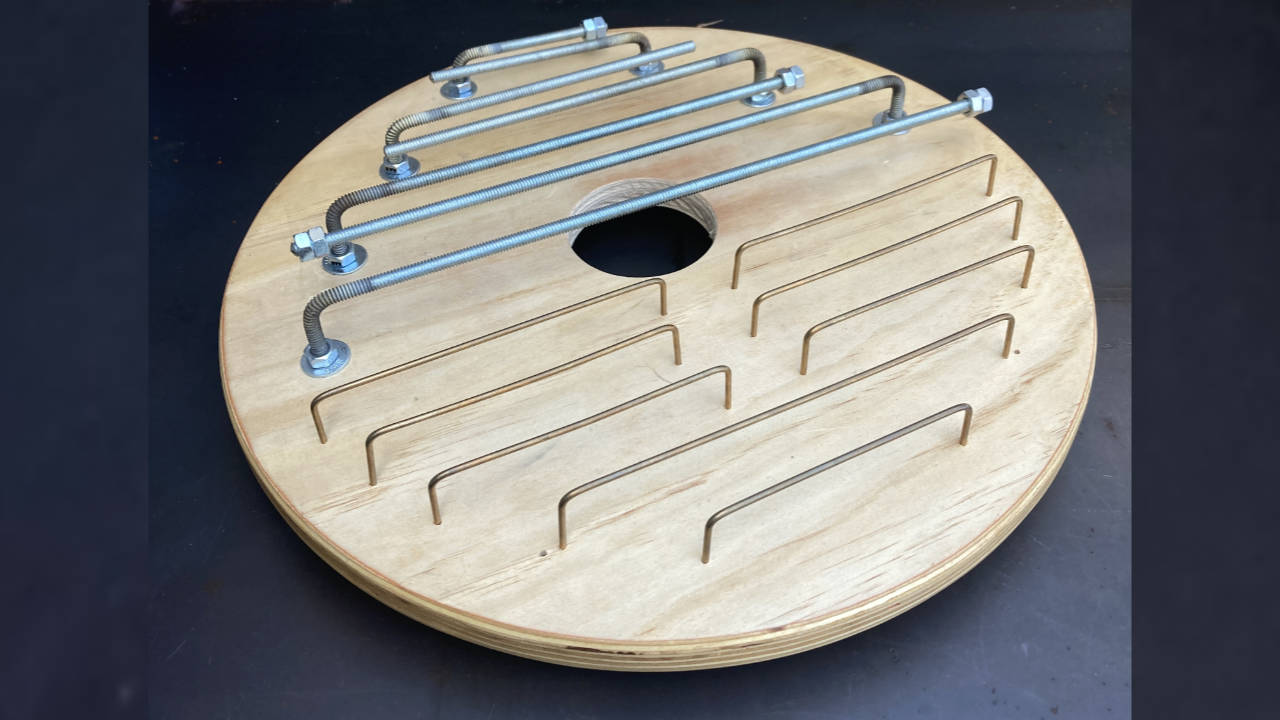 Jordan Glenn had the great idea of making Bug-like instruments that would fit on his floor tom. Nunn's Bug's were cuter, smaller versions of his larger EPBs using bronze rods, threaded steel rod, strings, springs, etc as sound producing devices coupled to a plywood sound board and typically amplified with contact microphones.
Tom Nunn and Sudhu Tewari built a few prototypes of these Drum Bugs with Jordan's input. The idea was that these Drum Bugs would use the drumhead as secondary soundboard and take advantage of the drum's resonance to make a portable instrument that would extend the sonic capabilities of a traditional drum kit without adding electronics.
Frequently Asked Questions
What inspired you to do this?
Jordan Glenn inspired this project, He had the great idea of making a Bug that would fit on his floor tom.
How long did it take to make it?
Tom and I knocked out the first one in a day. Then we sent it off with Jordan to play. He came back with some suggestions and we built the next one.
How long have you been doing things like this?
20+ years
How much did this cost to do?
Nothing. I scavenged the wood from a former public musical art sculpture and Tom already had the brazing rod and al-thread.
Have you done other things like this?
yes!
What did you wish you knew before you started this?
I wish I hadn't given away my collection of toms.
Are there plans available to make this? Do you sell this?
We're happy to help other make things like this. Get in touch!
What's next?
more instruments, more music!
Sudhu Tewari : instrument builder, sound artist, improvisor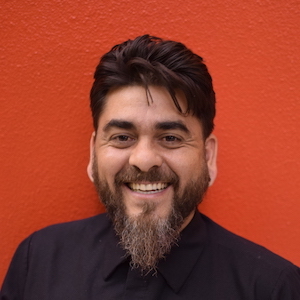 Sudhu Tewari has been described as "bricoleur", "junkyard maven", and "audio-gadgeteer". He invents, designs and builds from whatever materials are to hand—musical instruments, kinetic and sound sculpture, interactive installations, audio electronics, and wearable sound art. Along with Fred Frith, Sudhu is one half of the home-made instrument duo Normal, and has performed in this and other configurations in Europe, Japan and the USA. His visual and interactive art has been exhibited at Swarm Gallery, 21 Grand, ProArts, and FLOAT Gallery in Oakland; the Center for New Music, the Exploratorium, and the Museum of Modern Art in San Francisco; and at Montalvo Arts Center, UC Berkeley, the Tech Museum in San Jose, the Oakland Museum of California, PROGR and the Laboratoire Village Nomade in Switzerland. He has been teaching electronics and sound art to children and adults since 2009 and continues to build and perform with self-governing musical systems and self-built musical instruments. His relentless curiosity and delight in unlikely solutions to intractable problems are manifest in all of his work. Sudhu holds an MFA in Electronic Music from Mills College, and a PhD in Cultural Musicology from UC Santa Cruz. He is currently Workshop Technician in the instrument building program at Mills College and teaches art, technology, and design at California College of the Arts, the University of San Francisco, and Expression College in Emeryville.
Connect with Sudhu Tewari
If you like this project, please make a small donation to the artist.