Bass marimbula/cajón
A sit-upon box that can be played as a traditional cajón with built-in snare, or as a marimbula, which is something like a bass thumb piano on steroids.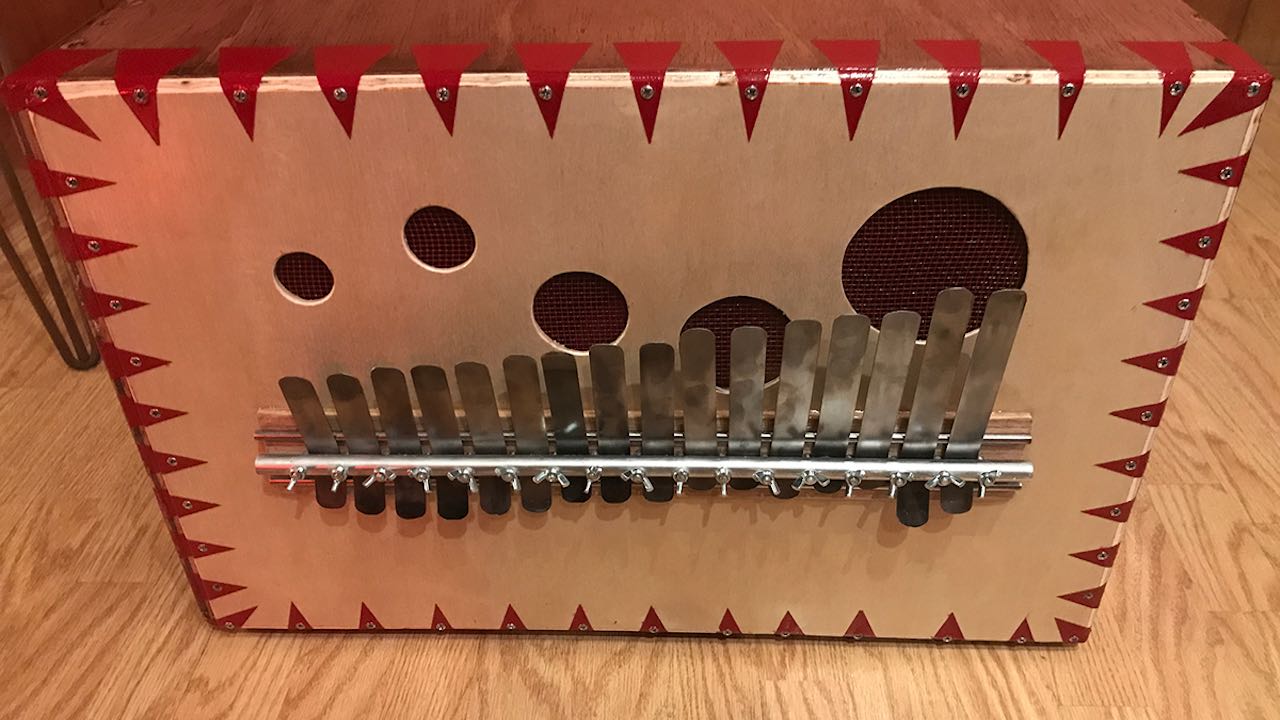 I have been exploring metallophones because they resonate with me - metaphorically and physically. The resonance of a xylophone or gong sounds beautiful and actually *feels* good to our bodies in a way that an electronic instrument does not. Drums can do this - metallophones can do it with much more chromatic range.
Metallophones are easy to play, easy to build, and - like all good instruments - difficult to build *well*.
So how did *this* thing happen?
I branched from xylophones into cajóns just to try building something different. The first two were easier to make, aesthetically appealing to me, and instantly usable as furniture!
Then I veered wildly to the left when I thought "What if I build a REALLY BIG KALIMBA?" No idea where that came from - I think I yearned for deep bass tones that xylophones just could not deliver.
I mashed-up my learnings in woodworking and plywood resonance from cajón-building and experimented with different tongue materials - first with thin steel and aluminum stock (too rigid to vibrate) and later with thinner stock - until I settled on tongues cut from recycled steel 3/4"-wide shipping strap.
It took a while to figure out how to construct a bridge that could be applied firmly to the cajón face, would be rigid enough to prolong vibration of the tongues, and would look good - because aesthetics.
Once I had the method down, the cajón box took about 12-15 hours, the bridge and tongue another 10-12 hours, and then another 2-3 hours of tuning, futzing and finishing.
Frequently Asked Questions
What inspired you to do this?
Metalwork can be wearying. I had poured a lot of heart and soul into XyloVan, and I wanted to make something simpler.I can't remember where I got the idea, but I had built a wood-framed resonator box for my first xylophone almost 17 years earlier, and thought to reuse those skills for something elegant and simple. A cajón seemed like the place to start. The resonance seemed useful. What if you could make an enormous kalimba? And that's how the marimbula experiment became this thing.
How long did it take to make it?
End-to-end, probably a couple of weeks of nights and weekends.
How long have you been doing things like this?
Building instruments since 2002.
How much did this cost to do?
Maybe 30 bucks including the plywood, store-bought hardware, glue, wood stain, and polyurethane. The bulk of the metal - tongues and bridge-rails - is recycled.
Have you done other things like this?
More than a few: http://xylovan.com
What did you wish you knew before you started this?
that taping dowels before cutting wooden pegs from them keeps the ends from splintering and looking crappy.
Are there plans available to make this? Do you sell this?
Plenty of plans can be found on the internet for cajóns. The marimbula - check out the build log on my site.
What's next?
I've been wanting to build a percussion bench where 3 or 4 players can sit together on the same instrument and play cajón, marimbula, tank drum and other percussion. I might also make a single version of this with a foot-kick bass so you can keep your hands free for marimbula while keeping time.
Resoures?
Nothing in particular. I cobbled this together from my own crude skills and a few tips from cajón-build videos on wood thickness, etc.
Mack Reed : Maker, technologist, Burner, volunteer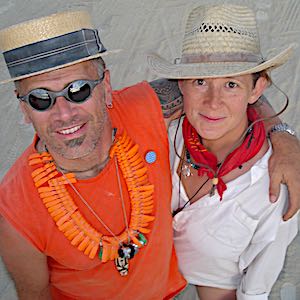 I fell into making instruments thanks to Disneyland. The Imagineers built a "junkyard orchestra" space in the ground floor of the Tarzan Treehouse, and there was this simple xylophone made from raw bar steel.

I banged on it, felt a toddler's simple joy at hitting something to make musical sounds, and thought to myself, "I could make one of these!"

And there my troubles began. ;) I built a one-octave xylophone from scrapped T6 aluminum bar while bored on paternity leave during my 4-mo daughter's many naps.

Then I built XyloVan for Burning Man, which showed me that giving people permission to bang on musical instruments sparks their joy and mine.

And I branched out into building tank drums, cajóns and marimbulas. These seem to be the shortest path from physical action to the sounds that resonate with people -

The magic lies not in the player's hands, nor the instruments' construction - but in the space in between, where people wonder, and explore, and feel the music they choose to make.

I love enabling that space.
Connect with Mack Reed
How I can help you:
I am deeply interested in co-creating instruments. I'm happy to replicate any element of the stuff that I build if you want to incorporate it into an instrument that you are building. I'm also game to apply my brainstorming and fabrication to any insane vision you have but don't know how to realize.
How you can help me:
See above - and let's communicate. Cross-pollination of influences, ideas and inspirations through friendship can lead us in directions we never thought possible alone.